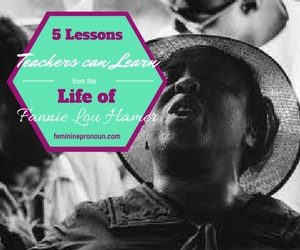 In the last entry in this series, "Students Are Not Empty Vessels," the general point could be summed up as "the students have a past." A past that can be unpacked and surveyed for what is usable and valuable in the classroom. This week's blog, "The Students are Co-creators in the Classroom," can be summed up as "the students have a future."
In my work researching and writing about Proto-feminist, black woman organizer, Fannie Lou Hamer, I was probably most impressed by the collaborative organizational model that she was trained in via the Student Nonviolent Coordinating Committee. I mention this because the young activists in SNCC, (who are much like the young teachers entering U.S. classrooms today), understood that the communities they were serving were co-creators of the movement for civil rights. They understood that they could not show up with a "box of revolution" without giving the community tools to not just use the items inside the "box," but to create their own box. Further, they were prepared for the eventual superiority of the "community-created" box, because the people who will be using it after they were gone would conceive it.
Much has been made of Afro-futurism, because so much of speculative fiction or what many people call science fiction. imagines a future where no blacks or people of color are present. This cultural programming that envisions a racially monolithic future, affects everything and everyone. Teachers are not immune to the cultural drinking water of which were all partaking. Classroom instruction can be deeply affected by an implicit belief that the students don't exist past the classroom, and won't show up in a future community that the teacher will inhabit.
One of the most dangerous ways this implicit belief can appear is in an instructional style that creates puppets of its students. An instructional pattern that begins with a "do now" as soon as the students enter, and is scripted and over planned to direct the students' every move from bell to bell. These are the types of classrooms where the teacher (or the principal) privileges "classroom management" above all else. These are the types of classrooms that many poor students and students of color find in the punitive models that seem to populate their communities. These are the same models that cause a legislature to make fighting a felony, and the same models I wrote about in my article "What Do Black Childhood, Charter Schools and Tamir Rice Have in Common?"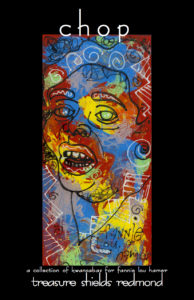 But every now and then, there is a classroom where students are eager to learn and they walk in touching the environment around them. They clean the boards. They've elected a classroom president. They know where the materials are that they must get situated themselves for the day's lesson. Sometimes they choose the literature, and other times they're given assignments where they must teach a concept. All of these are just a few examples of the ways I see students encouraged to be co-creator's in the classrooms that have transformed educational spaces.
Once while returning from training at the Highlander Folk School in Tennessee, Fannie Lou Hamer and her comrades were detained and beaten by police in Wynona, Mississippi. Even though Mrs. Hamer was demoralized by her brutal treatment at the hands of a power system that was supposed to serve and protect her, she had been trained by the members of her community and by her recent interaction with the SNCC activists to see herself as the creator of her community's response and eventual triumph over the structural biases she was being attacked by.
She triumphed. Out of a community with no consistent public schools and the pernicious and violent system of Jim Crow, she triumphed. She created a future for her community, which looks very different than the present she inhabited.
In U.S. classrooms the reticence to see poor black and brown students as co-creator's of their own education has helped to drive the low achievement and demoralized school cultures that I have witnessed in many public schools. But probably most alarming is the encoding of a "futureless," and "visionless" ethos that is supported by teachers and administrators who believe they are the creators, the gods of the classroom and that our children have an expiration date.
Send me my FREE tips, links, & printables for my COLLEGE BOUND Screenager!