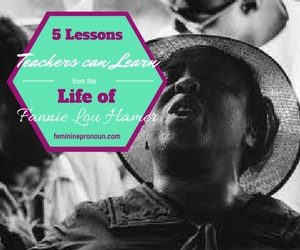 One of my favorite photos of Fannie Lou Hamer is one of her in front of a mass meeting teaching freedom songs. Mrs. Hamer came from a spiritual tradition that included countless songs. Some of them can be heard on the album Songs My Mother Taught Me, and I often devote a portion of my interactive presentations to singing some of them.
When SNCC operatives walked across a cotton field trying to organize poor, rural blacks, Mrs. Hamer did not look like a person whom musicologists and ethno-musicologists would be studying for the next 50 years. She did not look like a veritable griot of musical knowledge.  She was a short, slightly overweight, dark skinnned avatar in many of the young college educated activist's eyes. She did not look distinctive in anyway, and even her gold tooth, at the time, was not unusual.
In the previous decade, I taught in some of Memphis, Tennessee's "toughest" high schools. Like many teachers, I had the experience of walking into huge assemblies and being surrounded by scores of young energetic (and mischievous) students. Even before uniforms were required, most of the students adhered to a "uniform," of sorts. Like most teens, they were reticent to stand out and wore many of the same types of garments and shoes. There were certain haircuts and styles that were the fashion of the time, and if I unfocused my eyes in a huge assembly, the entire group seem to be essentially one student.
But like those photos where at a distance they appear to be one portrait, and as you move closer they reveal themselves to be made up of many individual images, the young people I met in the classroom were each unique with astoundingly diverse stories.
I am reminded of "Aaron," who stepfather was a business owner from Iraq, and who was such an enthusiastic and involved parent. I remember Aaron telling us of a botched robbery at his stepfather's restaurant, and the loyalty and love between this African American teen and his Middle Eastern stepfather.
I remember "Lakisha," whose mother was in prison and who carried around a snapshot of her mother, who she was hoping would come home soon.
I remember "Tim" who had written already finished a novel, and was such a gifted writer that I had no problem getting him into a prestigious summer program for young writers. Tim lived in a one-bedroom apartment with his grandfather and his mentally ill mother, and I felt a special kinship with him because my mother also struggled with mental illness.
Each of these young people – "Aaron," "Lakisha," and "Tim," brought not just biographies to the class, but expertise and language that could inform their assignments and add incredible value to the class.
When we read Sinclair Lewis's novel Ann Vickers, in which the main character goes to prison, Lakisha added valuable insights to the discussion.
When I assigned projects having to do with Shakespeare's Merchant of Venice "Aaron" crafted a wonderful parsing of Shylock as non-Christian "other."
And when we read the oft anthologized "The Yellow Wallpaper," which is about a woman going insane, Tim brought a sensitivity to his written response that was magnificent.
Like Fannie Lou Hamer, each of the students was in contact with experiences that could have been used to paint them as victims and nothing more.  In truth, they were survivors.
So now I never walked into a room of Tabula Rasa, and the beginning of each school year, or each semester is rarely a "clean slate." For me, it was more like walking into a room of art supplies that have been well used. Some of the colors were still vibrant and some were fairly mixed, and still others were colors I'd never seen. Now, however, I know the richness they contained can create an innumerable combination of beautiful images.