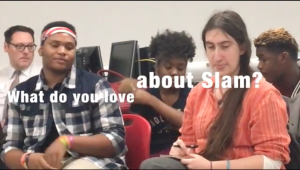 I titled this video "I Contain Multitudes, "as a nod to poet Walt Whitman's "Song of Myself."
I love the poem because it is an expansive celebration of the visceral kingdom, the body, pleasure, our mortal reality, and the justice of seeing everything as part of a converging whole.
I like to think of my life as one part of something bigger that is bending toward justice, and this is a vlog in the truest sense in that it follows me through my justice work that is informal (in the community), and formal (organized through a regional organization).
And of course, there's poetry! I get to judge an incredible student poetry slam organized through UrbanArts, a Missouri non-profit formed for the purpose of promoting arts, education, economics, and social services. Check them out HERE. 
Also, I am once again witness to my the best poet I know.
Hint: He's my Dad:)!<3
In this video I celebrate the way my love of justice and the work I do on its behalf, *and* my love of poetry dovetail to create my crazy beautiful life. Enjoy!
Here's a bit more about my business:
I offer two services: 1) I help the college bound teens of busy parents write extraordinary college entrance essays and 2) I provide perceptive leaders with creative diversity and inclusion facilitation. Let's connect at treasure@femininepronoun.com.