Support and love are interchangeable words. And like love, support is an action word. Love without action is empty. It's just fondness. Or maybe the absence of intentional harm. To this end, many organizations think support means to have good thoughts about, or good feelings toward, or not to be intentionally mean to. But support is where you put your time and your money.
In the previous post, I likened the university to a living citizen. But all organizations -- non-profit, private sector, even churches -- function as citizens in our communities. Good citizens, ones that are working toward inclusivity and justice, make intentional plans to be inclusive and just. They are called Strategic Plans, and they are a clear-cut way to prove an organization is committed to Diversity and Inclusion. They are a transparent way to show support to all citizens, regardless of race, gender, class, ability, or age.
I began my career teaching high school English. And the bain of our existence was the School improvement Plan. It came around every three years, and required that the whole faculty create Goals, Objectives, Person's Accountable and Due Dates for ways to improve the school.
It went like this: the faculty would identify parent engagement as a weakness. Someone would suggest we create a newsletter that would be delivered to parents in order to increase engagement, or participation and collaboration, from parents in the school. But it didn't stop there. The goal had to be a SMART one. This means it had to be Specific, Measurable, Attainable, Relevant (results oriented), and Time framed. Some one had to be responsible for the newsletter. Someone had to report to a larger body that the newsletter had gone out. Then we had to ask how we would measure "engagement." That's pretty nebulous, right? Is it the number of opens on the newsletter? The districts email management software could easily keep track of that. But weren't we talking really about whom shows up for open houses, programs, and parent teacher conferences? When we drill down, aren't we really trying to figure out how to widen the pool of parents who volunteer and seemed genuinely interested in their child's education?
It was through these questions and discussions (intensely every three years, and steadily in between) that my colleagues and I were able to improve areas like parent engagement, the drop out rate, and performance on college entrance exams. It was a slog, but it was a public and intentional act of love toward the community we served and were a member of.
Now here is what a draft of one goal on a University's Strategic Diversity and Inclusion plan might look like: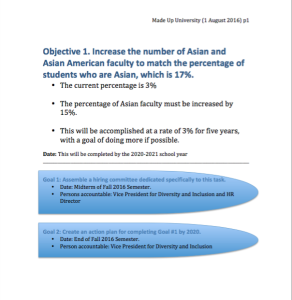 This is a good start, but the specific tasks – like paying a facilitator to come in and provide some training specific to organizations interested in offering more opportunities to faculty of color, recruiting from the Asian American scholars who won awards for their dissertations, subscribing to the Asian Am professional organizations, etc. – would have to be created by the assembled committee.
Now why is the Strategic Plan for Diversity a good thing? Well, here are just a few reasons:
Constant talk of increasing diversity with no real action demoralizes the workforce. It all becomes unreal.
No more handwringing.
No more circular thinking.
No more organizational stasis.
No more stakeholder burnout.
You will eliminate the dreaded "Meeting spiral." (Why are meeting? We're meeting about the last meeting. What was the last meeting about? The meeting before that.)
One of the most important reasons for a Strategic Plan for Diversity and Inclusion, however, is that it creates a real mission for the Diversity and Inclusion Office. It becomes about more than taco night. It moves the organization to the to the next level, up Bloom's taxonomy from Remembering (commemorations), to Understanding (public dialogue), to applying (policy change), to Analysis & evaluation (policy evaluation and revision), to Creation, where an organization is creating the standard for other organizations to model.
Next Week, I'll be exploring the question, "Whom Must We Hire?"
Do comment to tell me about your workplace's Strategic Plan for Diversity and Inclusion. Also, I'd love to hear from people who are at the beginning stages of Strategic Plan writing.
photo by Johannes Ortner