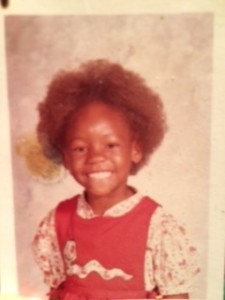 It wasn't this picture that fell out of the dead man's pocket, but it was one very much like it.
When I was in the first grade, a friend of my mother's boyfriend, a man who had sat at our table and had eaten in our home, murdered his girlfriend and then committed suicide.
My school picture fell out of his pocket.
Just a few years ago, a student of mine was shot to death by her husband, who then shot himself.
I taught high school English for nearly a decade, and during my tenure a colleague was drowned by her husband. She told co-workers he was going to kill her.
Each of these women was a victim of intimate partner violence. And each one of them worked somewhere.
I have an acquaintance that told me about being a union leader for a group of machinists at a steel manufacturer. He received a call because a union member "dropped dirty," which meant his random drug test came up positive. As a union rep, he was dispatched to represent the member as he was not fired, but offered counseling and rehab.
What if my student's workplace had some processes in place, not just for the wellness issue of addiction, but also for the wellness issue of intimate partner violence?
Diversity and Inclusion speaks to race, gender, class and ability. With respect to gender, if the Global workforce is going to benefit from the experience, gifts and value that women bring to the workplace, intimate partner violence has to be taken into account.
Yes. Women who are literate, educated and older are victimized. Yes. Attractive women who could have other partners by virtue of their attractiveness are victimized. Yes. It is possible that women who interview well and are capable, impressive and accomplished team leaders in their work life may be being victimized in their private life.
And they work with us. They work for us. They supervise us.
At our well oiled institution. A place that probably had medical benefits in place for addiction and depression, but no tolerance for days missed to file an order of protection
A place that offered a generous relocation package if a headhunter recruited you and you were a hot new hire for the company, but no relocation package for you and your children fleeing a man who beats you.
So the call to action is this and it has three parts:
The same way the investment professional is given time at our jobs to talk with us about Roth IRA or long term illness insurance, a counselor should be allowed in to talk about family and group therapy.
The same way relocation and FMLA have become standard, there need to be "duress" accommodations, and sick days/personal days allotted for family crisis
And finally,
The safe place designation that many businesses have taken on for runaway minors or for the safe drop off of children should be expanded for the safety of women in danger.
When we all accept that the lives of our diverse hires deserve to be saved, and that that safety becomes productivity, increased sales, a trusted brand, and a healthier and more productive workplace, then we all win.