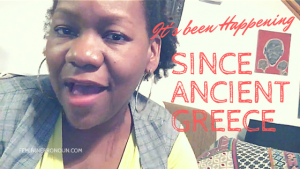 About this episode:
Living in the aftermath of the Ferguson rebellion means that there is almost a never ending barrage of well-meaning attempts to "reconcile the community and the police." When I heard of a New York production's staged reading that was titled "Antigone and Ferguson," (being performed in ferguson) I was intrigued. I mean, the resonance is obvious. It is about a woman whose loved one's murdered body was left in the street. But when I heard that Samira Wiley, most recently of Orange is the New Black, was reading the part of Antigone, I knew I couldn't miss it.
_________________________________________________________________________
And I've got more good news: Another busy mom was so moved (by the quality of my service) she decided to provide TWO SCHOLARSHIPS to the college essay writing bootcamp I'm offering this Saturday. I'm linking to the sign up page below, but email me at treasure@femininepronoun.com to claim your screenager's free spot!
Find out how I help the college bound kids of busy moms create the future they deserve:
www.gettheacceptanceletter.com