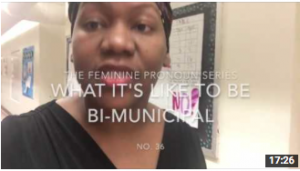 In 2009 I moved from Memphis to East St. Louis, Illinois.
A year later I moved across the river to St. Louis, Missouri. Two years after that I moved BACK across the river to Illinois where I now reside. Throughout this process, I built relationships in the arts, education and activist arena on both sides of the river. This video is about the ways I "toggle" between the states and what it's like to be "Bi-Municipal." Enjoy!
Here's a bit more about my business:
I offer two services: 1) I help the college bound teens of busy parents write extraordinary college entrance essays and 2) I provide perceptive leaders with creative diversity and inclusion facilitation. Let's connect at treasure@femininepronoun.com.