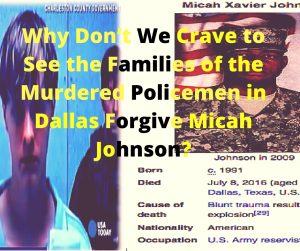 As the country continues to grapple with the racialized gun violence of the past weeks, several issues of comparison can be explored and discussed.
This is a thought experiment. I have taken an article titled, "Families of Charleston Shooting Victims: "We Forgive You" written by Inae Oh and published on MotherJones.com, and replaced the details with those of the Dallas shooting which took place on Thursday, July 7, 2016. Added or changed words are indicated by being underlined. Removed words are not indicated.
Families of Dallas Shooting Victims: "We Forgive You"
As Micah Johnson, the gunman accused of killing five police officers at a peaceful rally assembled to protest the police involved shootings of two black men in Baton Rouge, Louisiana and Minnessota, was scraped off the walls of the parking garage in which he was blown up on Thursday, representatives of the victims' families came forward to deliver a powerful message of forgiveness.
"You took something very precious away from me," a family representative for Lorne Ahrens, who had been with the department since 2002 and who died in Thursday's sniper attack, told Johnson's remains on behalf of Ahren's loved ones. "I will never talk to him ever again. I will never be able to hold him again. But I forgive you and have mercy on your soul. You hurt me. You hurt a lot of people, but I forgive you."
Some of the victims' family members also invited Johnson's remains to join them in bible service to repent and to "change your ways no matter what happened to you."
Misty McBride, who survived the shooting, but was shot twice, in the arm and abdomen, also spoke. "Michael Krol was my hero….May God have mercy on you." Another officer, Gretchen Rocha who was hit by shrapnel and hospitalized, told Johnson's remains, "For me, I'm a work in progress and I acknowledge that I'm very angry. We have no room for hate. We have to forgive. I pray God on your soul."
On Thursday, one of the two daughters of Michael Smith, a veteran officer who joined the force in 1989, responded to the tragedy by expressing gratitude for those who reached out to her since her father's murder.
"Love is always stronger than hate, so if we just love the way my father would, then the hate won't be anywhere close to where love is," Smith said. "We've come together as a community to try to get past these things. A tragedy has happened, but life is going to go on and things are going to get better."
"This police profession is such a family," she continued. "'I've known them most of my life. Feels like they're all older than me, but it's like I'm everybody's grandaughter."
Johnson's remains, which appeared emotioneless during the hearing, were charged with five counts of murder.
________________________________________________________________
In the wake of the killings of Alton Sterling and Philando Castile, we are realizing that the culture of policing must change.  To that end, a nationwide work strike called #StrikeForBlackLives is being planned.  Slated to begin the day after labor day, and last the remainder of the week, #StrikeForBlackLives asks US to have AT LEAST ONE day of absence (Tuesday, September 6) which is the #BlackFolksOffDay.  The remainder of the week can be taken off if you can RISK or AFFORD it.  The minimum sacrifice is ONE DAY of work strike and ONE WEEK of economic boycott.  We Can Do This!