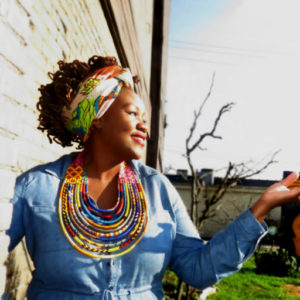 Who is Treasure Shields Redmond? Well, I am first and foremost a poet. I come from a family of storytellers. In my hometown of Meridian Mississippi, I was raised at the feet of master storytellers. These were the old ones with old ways who spoke in deep southern dialect. In the summers and on holidays I would travel to my dad's hometown of East St. Louis, Illinois, and receive the midwestern version of the story. These were the hip ones, with more urbane sensibilities who spoke in citified slang. And when I began to write, all of the wisdom I had received from the elders and characters in my southern sphere and the midwestern sphere came out in poetic verse. I eventually went to college to study theatre, but then left to pursue a career in the music industry as a hip-hop music performer (rapper) and writer. I was signed to the label owned by multimillion-dollar artist MC Hammer. After producing an album, becoming a staff writer and touring extensively, I returned to college as an English education major, with a mission to teach writing to underserved communities. I am headed toward my 20th year of teaching.
Along the way I was conferred a Master's Degree in Creative Writing by the University of Memphis. As you can tell, I've always been on two tracks -- the artist track and the educator track. As I transitioned to college professor, and published author, my focus began to crystallize in the area of the populations I served most often. These were populations in jeopardy. Educational communities in poverty, mostly of color, often headed by women who were un-partnered, and with co-existing bias factors like mental illness and physical disability. I realized that I had all the preparation to lead communities in healing conversations around race, class, gender, and ability.
I'm very close to completing doctoral studies where my research focus is global feminisms in communities of color. I have never felt so in sync with my gifts and the zeitgeist as I am at this moment.
When I lead writing workshops, whether with novice writers, or published authors, and when I facilitate, whether it is initial conversations about bias, more intermediate seminars designed to fulfill Diversity and Inclusion objectives, or even retreats with the end product goal of a strategic plan for diversity, I am the most enthusiastic person in the room. I absolutely love diving deep into the hard stuff. So . . .
Do you want to extend our conversation?
I can create custom literature, creative team building workshops and lead conversations about race, class, gender, ability and age.
Contact me here: treasure@femininepronoun.com