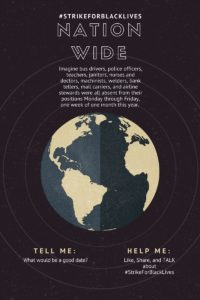 "Hamilton" isn't the first play written by a writer of color that casts black and brown Americans in the roles of white Americans. 50 years earlier, Douglas Turner Ward wrote "A Day of Absence." The play, with a role made famous by Ossie Davis, features a black cast playing white people in white face. "A Day of Absence" imagines what would happen if black people were suddenly "absent" from daily life and particularly jobs and labor in one small town. A satirical and surrealist masterpiece, Absence features scenes like a crying baby doll and an overwhelmed white mother who, having never cared for her own child, can only fret about where "Caldonia," the baby's black nanny is. The play is a hammer, driving home the fact that integral labor positions have been abandoned. Lin-Manuel Miranda's "Hamilton" and Ward's "Absence" both shine a light on the false manifest destined narrative of the U.S. It is a narrative that claims that bodies of color played no real part in the imperial work of the United States. These plays also shine a light on the "absence" of black and colored bodies in real positions of power. Further, both plays also leave viewers understanding the central place of people of color in the work force of this country.
This brings me to #StrikeForBlackLives and why a day of work strike to begin on September 6 (the day after Labor Day), followed by a week of spending abstention would provide an opportunity for consensus building, and a way for all black people to create what King called "nonviolent tension."
Here is how King described "nonviolent tension":
"There is a type of constructive, nonviolent tension which is necessary for growth. Just as Socrates felt that it was necessary to create a tension in the mind so that individuals could rise from the bondage of myths and half truths to the unfettered realm of creative analysis and objective appraisal, so must we see the need for non-violent gadflies to create the kind of tension in society that will help man rise from the dark depths of prejudice and racism to the majestic heights of understanding and brotherhood. The purpose of our direct action program is to create a situation so crisis packed that it will inevitably open the door to negotiation."
Imagine bus drivers, police officers, teachers, janitors, nurses and doctors, machinists, welders, bank tellers, mail carriers, and airline stewards were all absent from their positions for 24 hours, and then NO money was spent ANYWHERE for the remaining WEEK. This planned absence would have the effect of shining a light on the power of Black labor and Black money.
Community food pantries would have to be set up in order to help those of us for whom even one day off work means a week without adequate nutritional meals. I believe this is an area where many faith communities can assist mightily.
Slated to begin the day after labor day, and last the remainder of the week, #StrikeForBlackLives asks US to have AT LEAST ONE day of absence (Tuesday, September 6) which is the #BlackFolksOffDay. The remainder of the week can be taken off if you can RISK or AFFORD it. The minimum sacrifice is ONE DAY of work strike and ONE WEEK of economic boycott.
Here in the Midwest I am more than willing to throw my energy into organizing a #StrikeForBlacklivesSTL. Who will do it in Baton Rouge? Minneapolis? Oakland, California? Meridian, Mississippi? Orlando? New York?
Who will organize events in the evenings so as to provide time for adults to build community with one another, either through viewing artistic performances or engaging in action planning meetings?
Who will donate food and time for prayer breakfasts?
Who will donate funds in order to facilitate the travel of a cadre of leaders who will inevitably be asked to negotiate the platform demands that this #StrikeForBlackLives generates?
The above MLK quote regarding nonviolent tension was written in response to the white status quo that King characterized as asking:
"Why direct action? Why sit in, marches and so forth? Isn't negotiation a better path?"
The events of the past three years and of the past three days, with the filmed murder of Alton Sterling in Baton Rouge, and the filmed murder of Philando Castile in Minneapolis show us as our own President Obama said ahead of a NATO conference in Warsaw, "these shootings . . . are not isolated incidents. They're symptomatic of a broader set racial disparities that exist in our criminal justice system."
The time for negotiation has passed. Policemen are killing black citizens in cold blood without cause and with impunity.
It is time for black people to take control of our response and to join a multipronged effort with stand out leadership like The Movement for Black Lives and #blacklivesmatter activists, as well as older organizations like The Organization for Black Struggle to change the face of policing in the United States.
The ideological foundations of U.S. policing which are white supremacist, capitalist, heterosexist, and patriarchal must change.
Policing that is absent of community, absent of kindness, and absent of protection of human life regardless of the citizen's race, gender, class, ability, or age must be overturned and discredited. We must create a culture of policing that shows up for the communities they serve.
I propose that black people kick the foundational underpinnings of this murderous system of policing by NOT SHOWING UP for one week.
Viva la #StrikeForBlackLives !
_________________________________________________________________________
Ps: Help me flesh out this vision.  SHARE, LIKE, and TALK about #StrikeForBlackLives.
Finally, artists like Ward and Miranda are exploring many of the issues that ring resonant for people of color today.  Here are other artists -- Key and Peele -- who have also explored the painful irony of police brutality and the erasure of bodies of color: